23 March 2022
Sylvia Pankhurst: socialist, internationalist, anti-racist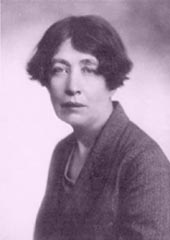 The idea for a statue of Sylvia Pankhurst was born in 1988 (gasp!) when one of the now four-woman committee was near the House of Lords by the memorial to Emmeline and Christabel Pankhurst. No mention of Sylvia…
Sylvia is the one who truly frightens the horses.
Expelled from the Women's Social and Political Union by her mother and sister, Sylvia was working in the impoverished East End of London with women and children, with trade unions, and, the final straw, supporting Irish socialists James Connolly and Jim Larkin and the workers of the Dublin lock out.
Life long socialist Ian Walters was the sculptor of our choice. Ian died in 2006 and was described by Tony Benn as "one of the greatest sculptors of his day". The maquette was unveiled in 2000. It is beautiful and like so much of his work, full of movement and purpose.
In 2001 we gained planning permission from Westminster Council for our chosen site on College Green opposite the Houses of Parliament but we also needed the permission of both the Commons and the Lords. The Commons granted its permission but in 2003 and again in 2004 the Lords' smoke and mirrors Administration & Works Committee refused, its chairman saying "Sylvia Pankhurst had no connection with the Lords which could justify the choice of such a prominent site".
Time passed…
In 2015 our Patron Lord Chris Smith approached Islington Council leader Richard Watts and political support was there for a site on Clerkenwell Green. The Green was the start of London's first May Day march in 1890, is home to the Marx Memorial Library and is dubbed "the headquarters of republicanism, revolution and ultra-non-conformity" – an excellent resonance with Sylvia.
The Council was intending to refurbish Clerkenwell Green – turning it from almost a car park to a mostly pedestrianised community space. Consultations were carried out and plans were laid. Constant reductions in the government portion of the Council's budget meant hard times but we were moving forward.
Covid arrived and everything went into slo-mo, but now we zoom forward!
The first phase of the refurbishment of the Green will start shortly – Sylvia is part of that first phase. Planning applications are in process for Sylvia and the Green and we hope to unveil Sylvia Pankhurst in 2023.
During the many years of this campaign we have organised an annual Sylvia Pankhurst Memorial Lecture in the workers' stately home – Wortley Hall, in south Yorkshire. See the "Memorial lectures" tab for details.
We have also lost some of our strongest supporters – including three Patrons: Richard Pankhurst (Sylvia's son), and trade unionists Baroness Brenda Dean, and Rodney Bickerstaffe. But our current Patrons fight on: Labour Peers Lord Chris Smith and Baroness Margaret Prosser, Helen Pankhurst (Sylvia's granddaughter), Maxine Peake (actress).
The Committee is older than it was also. But the end is in sight and we are happy to say that the statue is cast (by the Morris Singer Foundry) and waiting to be patinated. This statue will truly be a people's statue – our sponsors are individuals, trade unions, and trade union branches, along with a couple of very welcome local authority grants. The unveiling will be a festival of everything that Sylvia stood for. All sponsors will be invited to attend and to bring their banners!
Never give up!
Philippa Clark, Mary Davis, Megan Dobney, Barbara Switzer
https://www.justgiving.com/crowdfunding/sylviastatue